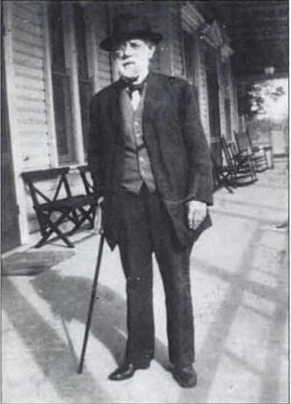 1838-1920
Concern for the health of his wife (Eliza), Josiah B. Clouser moved his family from Pennsylvania to Longwood in 1881. He saw the town in newspaper ads placed by town founder Edward Henck.
He was a master carpenter, who built many of the early Longwood buildings from 1883 onward. The two homes where he lived (Clouser House and Clouser Cottage) still exist today in the central historic district. He also built the Henck House and many other still standing residences in the district.
He built other notable buildings like the Longwood Hotel, Altamonte Chapel (originally Lake Brantley Union Chapel), and the Longwood Schoolhouse that all still exist.
Clouser was involved in local politics. He served terms as alderman and was elected mayor of Longwood three times between 1889 and 1912. From the mid-1890s until about 1910 he operated a general store.
In 2001, Josiah was recognized by the state of Florida as a "Great Floridian" for his pioneering contributions to Central Florida's development.
---
COMMENTARY FROM THE FOOTPRINTS BOOK:
J.B. Clouser was a 7th generation descendent of Hans Jarick Clouser who arrived in Philadelphia on September 11, 1728 from the Palentine Region of Germany. He and his family settled in Bucks County, Pennsylvania. J.B. was born in Perry County, Pennsylvania on October 15, 1838. Raised on a farm he chose the trade of a carpenter. He enlisted on the northern side in the Civil War as a member of the 149 P.B. Company D. Buck Tails.
After his discharge he resumed the carpenter trade. He was married in November 1868 to Elizabeth Clouser, his cousin, and established a home in Center Township, Perry County, Pennsylvania. In 1881, he answered an advertisement for a master carpenter placed in a northern paper by Mr. Henck, founder of Longwood. The position was to supervise the construction of a hotel in Orange County, Florida in a settlement known as Longwood.
Mr. Henck needed a hotel visible from trains passing through the village as a sign that it was a growing town. When the Clouser family (his wife Elizabeth, son, Charles 18 and daughter, Francis, age 13) arrived in Longwood in November 1881, there was no suitable place for them to live. He quickly built the Clouser Cottage on Church Street, followed a couple of years later by his larger house on Warren Avenue. After completing the construction of the Longwood Hotel (now the Longwood Village Inn), he took a job with P.A. Demens Co. as foreman of their novelty and lumber planing mill, at that time the only such mill south of Jacksonville.
After four years he left the employment of the P.A. Demens Co. to join with his son Charles A. and his son-in-law, F.J. Niemeyer to open a mercantile business on Lake St. in Longwood. He retired from the business when his wife died in 1911. He then became a cabinet maker. His son, Charles, moved to New Smyrna where he was in the automobile business.
Mr. F. J. Niemeyer carried on the business under the name of F.J. Niemeyer. Mr. Clouser was active in the civic affairs of Longwood, being elected an Alderman on the first City Council in 1883. He served as mayor in 1889, 1895 and 1903. He was one of the founders of the Longwood Cemetery Association which established the cemetery on North Grant Street.
He died on March 6. 1920. In 2001, the State of Florida honored Mr. J.B Clouser as one of the Great Floridians in their "Great Floridians" 2000 Marker Program.
Note 1: In 2000 when his army record became available on the Internet, it was discovered that at the time Mr. Clouser enlisted he gave his occupation as watch maker. At the time of his death his request for health benefits still listed his occupation as watch maker.
Note 2. Much of the information used here can be found in "Early Settlers of Orange County, CE Howard, Publisher, Orlando, Florida, 1915, and in an unpublished document: "Descendents of Elizabeth (Clouser) Dyle" compiled by her granddaughter, Mary L. (Clegg) Schmoker.