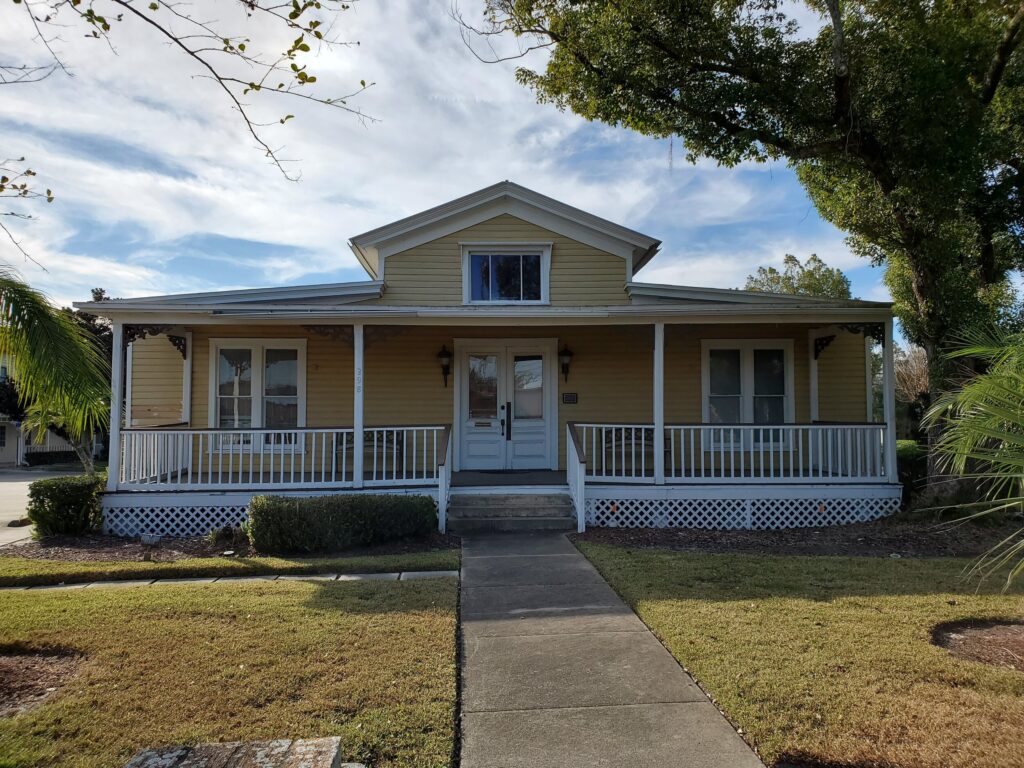 This was the house of Longwood's founder, Edward Warren Henck. He first arrived in Longwood in November of 1873 and was given a land grant under the Homestead Act that included all of the historic district and northward almost to Longwood Hills Road. His first home was reportedly near the southern shore of East Lake, but Edward and his wife (Mary) soon relocated closer to the core downtown district.
Some references claim this house was constructed as early as 1875, but others say it was built by master carpenter Josiah Clouser. That would mean at least an 1881 date (when Clouser arrived). We know it dates to at least that year since it is depicted in an 1885 aerial drawing of the town.
Regardless of the exact date, Henck lived in the home until the "Great Freeze" in 1895. Like many after that devastating period, he headed back up north after that winter decimated the agricultural industry in Central Florida. Henck lived in Plainfield, New Jersey and worked as a stockbroker until he returned to Longwood in 1914. He moved back into this house, where he lived until he died in 1930. His wife, Mary Henck, was invalid for the last few years of her life and passed on in 1926.
Bobbie Jo (Allen) and Louis T. Hunt cared for Edward and Mary as their health began to fail at the end of their lives. As a result, Henck left them his entire estate, including the house. They moved into the home and owned it until Bobbie Jo's death in December 1970.
Donald Barnes bought the home in 1971 and lived in it with his wife. It was in a dilapidated condition and the Barnes did much to fix it up. They removed several layers of linoleum and restored the original wood floors. They removed a buzzer system that was installed in the 1920s for the Hencks to ring for assistance from their caretakers (the Hunts) from their bedroom.
Tom Pratt, a real estate investor who also owned the Longwood Schoolhouse, bought the property in the early 80s. He converted it into an office space.
The house appears to have a small second story, but it does not. The center of the house has a cathedral ceiling. The middle of the house is the original section; the side wings and a back section were added later. It originally had a wrap-around porch that has been enclosed.
Today it is the offices of Lifecare of Central Florida, which has services for physical, occupational, and speech therapy.
References:
Photos